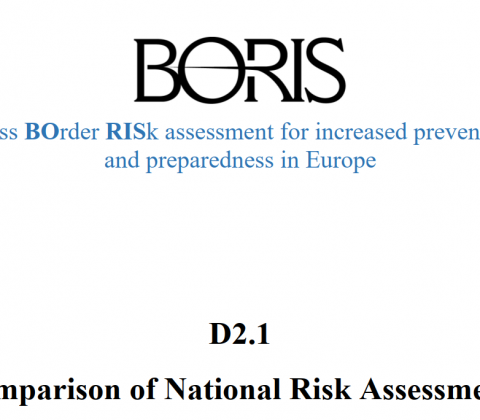 Deliverable D2.1 Comparison of National Risk Assessment
Comparison of national risk assessment (D2.1) is the first of the three deliverables of the BORIS WP2 "Analysis of the context and need assessment". Each project beneficiary presented the national seismic and flood risk assessment that was discussed in several meetings. As a consequence of project activities, the national risk assessment (NRA) from Slovenia, Italy, Austria, Turkey, and Montenegro is summarised in this report. Each section addressing the NRA comprises four subsections describing the analysed risks, seismic risk assessment, flood risk assessment, and multi-risk assessment.
A brief overview of the NRA analysed in this report:
The last version of NRA of Slovenia was issued in 2020. The NRA addressed 15 risk types, which were mainly assessed by deterministic risk assessment methods.
The Italian NRA was developed at the end of 2018 by the Department of Civil Protection (DPC) in agreement with EU decision 1313/2013 and the Sendai Framework for Disaster Risk Reduction. The NRA addresses ten types of risk.
In Austria, disaster risk assessment and management are the responsibility of each federal state. However, the Federal Ministry of Agriculture, Regions, and Tourism of the Republic of Austria takes care of performing detailed (natural) hazard analyses for many years.
Turkey's first National Disaster Risk Assessment (NDRA) report was prepared in 2019 for natural disasters such as earthquakes, floods, forest fires, landslides, rockfalls, and avalanches. The risk is communicated with the risk matrix, which comprises four risk classes depending on the likelihood of the adverse scenario and the consequence class.
Montenegro's NRA is currently under development within the framework of Development of National Risk Assessment for all types of hazards affecting Montenegro (ECHO/SUB/2020/TRACK1/831677) that is sponsored by the European Commission, Directorate-General for European Civil Protection and Humanitarian Aid Operations (DG ECHO).
Read the findings in detail in the report.